Arabtec assurances revive Dubai stock market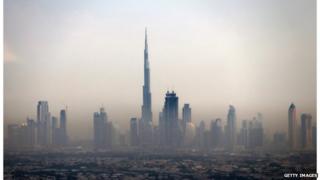 Dubai's stock market bounced back almost 8% after weeks of volatility surrounding construction giant Arabtec.
The company, which built the Burj Khalifa, the world's tallest tower, lost 60% of its value last month.
Shares were hit by news that its biggest shareholder, Aabar Investments, was cutting its stake from 21% to 19%.
On Wednesday, Arabtec chairman Khadem al-Qubaisi promised to improve transparency and insisted that the company retained the support of Aabar.
Aabar is backed by neighbouring Abu Dhabi, which helped Dubai weather its financial crisis in 2009. Abu Dhabi is the capital of the seven states of the United Arab Emirates.
Although Mr al-Qubaisi spoke after the market close, Arabtec shares soared ahead of the announcement. They rose 15%, the biggest daily gain allowed under stock market rules.
But Mr al-Qubaisi did not clarify the circumstances surrounding the abrupt resignation last month of chief executive Hasan Ismaik or the fate of Mr Ismaik's 29% stake in Arabtec.
Positive effect
Mr Ismaik had been instrumental in expanding Arabtec's reach into higher-margin sectors of the construction industry, oil and gas projects and operations beyond the Gulf, such as a $40bn housing project in Egypt.
Mr al-Qubaisi said Arabtec would remain a publicly traded company and concentrate on its core construction businesses.
He added: "I can assure you that transparency will improve a lot in Arabtec over the next few months."
His statement had a positive effect on other construction and real estate firms in Dubai and on all UAE markets. Abu Dhabi's index jumped 5%, its biggest gain in a month, while Qatar's market rose 2.1%.