Sports Direct bonus scheme approved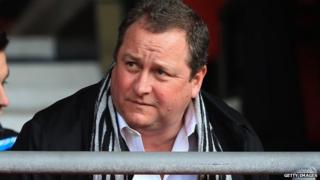 Shareholders of Sports Direct have voted in favour of a bonus scheme despite considerable opposition from some investors.
The backing will see the sportswear retailer's founder Mike Ashley and up to 3,000 employees share £200m in equity, as long as new profit targets are met.
Sports Direct said that 60.4% of the votes cast backed the scheme.
It was the board's third attempt to pass a bonus scheme since 2012.
The BBC's Emma Simpson said that Mr Ashley and his executive team were not allowed to participate in the vote.
Sports Direct dropped an earlier attempt to award Mr Ashley more than £70m in shares in April following concerns from investors.
The board had made a previous attempt to award Mr Ashley - who is also chairman of Newcastle United - shares in September 2012, but this was rejected by shareholders.
Checks
The Institute of Directors (IoD) criticised the latest bonus scheme proposal, saying it had significant concerns about Sports Direct's corporate governance.
It urged the Financial Reporting Council (FRC) to adopt recent recommendations to change the Corporate Governance Code requiring boards to explain what action they plan to take after votes like this as soon as possible.
Mr Parry added: "Today's vote is not a ringing endorsement for the governance set-up at Sports Direct. We are not convinced that the board is independently-minded enough to exercise sufficient checks on the majority shareholder, in this case Mike Ashley.
"The board needs to demonstrate to minority shareholders that it is also considering their interests.
The Association of British Insurers (ABI) and Local Pensions Fund Forum (LPFF) had already called on investors to oppose the new bonus award.
Motivating staff
Mr Ashley has not been paid a salary by Sports Direct for several years.
Keith Hellawell, non-executive chairman of Sports Direct, thanked shareholders for their support and said it would ensure the retailer was able to retain and motivate its staff.
"The resolution today also recognises the substantial contribution made by Mike Ashley over many years and, as demonstrated by the previous schemes, has the potential to create a further significant increase in shareholder value," Mr Hellawell added.
Separately, Sports Direct has criticised German sportswear maker Adidas, according to the Daily Telegraph.
The paper said that the UK retailer was understood to have reported Adidas to the competition authorities.
The clash centres on Adidas not supplying Sports Direct with replica football shirts of the teams it sponsors, including Germany, Argentina, Spain and Columbia, the Telegraph reported.