MPs begin scrutinising HS2 bill, as hundreds voice concerns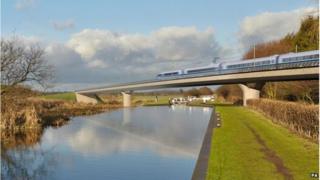 The long process of scrutinising nearly two thousand objections to the government's High Speed Two (HS2) rail bill has begun.
A committee of six MPs will spend months, maybe even years, hearing from groups and ordinary people whose lives will be impacted by the project.
In the end, HS2's fate will be decided in a vote by MPs, but this committee can reshape what will be voted for.
It can't stop the scheme, but it might recommend small changes to the route.
The committee could also ask for more money be given to the people affected by HS2, and it could argue for extra tunnels to protect land (tunnelling is the most expensive thing of all, so any new digging will add millions to the final bill).
It might even force through measures to cut congestion and noise from all those lorries piling to-and-from the HS2 building sites.
And when the bill finally clears the House of Commons, the Lords will have a big say too.
To give you some context, a similar committee process for the bill on Crossrail - the east-west line that will eventually burrow its way across London - led to a brand new station at Woolwich, despite government opposition.
In all, 1,925 different groups and individual people have filed petitions against the government's HS2 bill. Each one gives an insight into how one of the world's biggest construction projects - a scheme that's been tossed around by MPs and argued over by experts - actually affects the people who'll live nearby.
From the charity that wants longer tunnels to protect ancient woodlands, to resident Bernice Fuggle, who among other things is worried that construction lorries and extra cars will make cycling in and around Little Kingshill more dangerous.
Then there's Alexandra Swan who says the bill in its current form "will jeopardise the health, safety and well-being" of her family, and John Jeremy Cameron, who is concerned that extra traffic will potentially stop the emergency services getting to his family in a reasonable time (he suggests that HS2 Ltd provide an air ambulance during working hours).
And the Friends of Wormwood Scrubs Park Association whose 3,000 supporters include everyone from dog walkers to kiteboarders and model aircraft flyers. They're angry at plans to turn some of their park, currently used for sport and recreation, into a wetland habitat, to compensate for damage to the environment elsewhere en-route.
Unsurprisingly, it's the years of lorries and cement mixers trundling past their homes that worries many people. The impact of all that traffic and dust on their journeys to work and school, and on their health or value of their house, is of concern.
There's another interesting comparison to make with the Crossrail parliamentary bill.
That bill received a mere 365 petitions, with a further 99 coming later on. And it still took nearly four years to go through parliament.
That's why many MPs I've spoken to scoff at the government's original ambition to get HS2 through by next summer. The new boss of the project, Sir David Higgins, has made it very clear to MPs that the best way to keep costs down is to hustle the parliamentary process along as quickly as possible.
But he's also told me in the past that scrutiny is vital if HS2 is going to be credible with the public.