UK house prices surpass 2007 peak, says Nationwide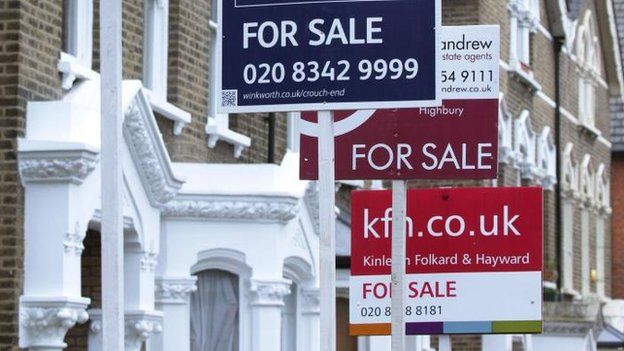 UK house prices have risen above their peak of 2007, the Nationwide has said, after prices climbed 1% in June and were up 11.8% from a year earlier.
The building society said the average value of a UK property was £188,903, but in London it had surpassed £400,000 for the first time.
Despite the acceleration in house prices, it said there was "significant variation" across the country.
And it expected price gains to slow in London from July onwards.
The Nationwide based this view on "anecdotal evidence" from surveyors and estate agents.
The annual rise in house prices accelerated from 11.1% in May to 11.8% in June, with all regions across the UK seeing an increase.
Prices increased by 1% in June, compared with a 0.7% rise in May. This was the 14th successive monthly increase in prices.
The figures are based on the Nationwide's own mortgage data and are the first snapshot of prices and activity in the housing market in June.
The interactive content on this page requires JavaScript
Other surveys in recent months have echoed the view of local markets moving at a different pace. The Land Registry said last week that prices were still falling in some areas of Wales and the North West of England.
The south of England continues to see the strongest growth in house prices, various surveys have said.
The Nationwide said London saw the sharpest rise, with prices up almost 26% in the three months to the end of June compared with the same period last year. This pushed them 30% above their 2007 peak.
However, it predicted that price growth in the capital was slowing, a view drawn from some London estate agents.
"There are already signs that buyers are starting to say enough is enough," said James Hall, director of London estate agents Fishneedwater.
"Whereas a few months ago, buyers were offering silly prices on some very average properties, the silly season in the capital seems to have passed.
"Buyers are now taking their time, and making fair offers. We are definitely seeing fewer properties going for or over asking price."
Mortgage approvals - which signal future house sales - have slowed in recent months, Bank of England data shows.
Nationwide's chief economist Robert Gardner said recent moves by the Bank of England's Financial Policy Committee (FPC) to ensure the UK housing market does not overheat, were unlikely to have a "significant impact".
The FPC recently announced an insurance policy against an overheating market, consisting of:
Ensuring lenders check mortgage applicants can cope with a three percentage point rise in interest rates - slightly tougher than current affordability checks
From October, limiting risky lending by putting a 15% cap on the number of mortgages that banks and building societies can give to people who want to borrow more than 4.5 times their income
"Most major lenders are already using a stress rate in their affordability calculation... similarly, the proportion of house purchase loans at or above 4.5 times borrowers' income is currently some way below the 15% cap," he added.
But Mr Gardner said rising expectations that interest rates might increase earlier than expected could dampen housing activity, although the lack of homes coming onto the market or being built still meant demand exceeded supply which would continue to push up prices.
"It is important to note that the Financial Policy Committee does not have the tools to address the fundamental problem with the housing market - the lack of supply," he said.
Related Internet Links
The BBC is not responsible for the content of external sites.