How Ford's Alan Mulally turned around its fortunes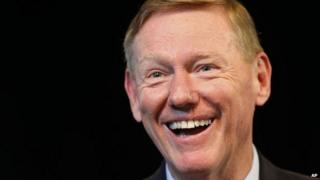 When Alan Mulally took over the top job at Ford, the century-old carmaker was well on the road to bankruptcy.
Now, eight years later, he is retiring - leaving behind a business in robust financial health, and some tricky challenges for his successor.
"I arrived in September '06 and the first profit forecast I saw was for a loss of $17bn [£10bn]," he says.
"By the end of that year, we'd accomplished that. Our forecast accuracy was very good!"
Mr Mulally can afford a wry smile about it now, but at the time the situation was becoming critical.
The lean 61-year-old had been headhunted from Boeing by the Ford chairman, Bill Ford Jr, and asked to turn the business around.
He arrived with a strong track record, a former engineer who had worked his way through the ranks at the aerospace giant, to become chief executive of its passenger jet business.
But as critics were quick to point out, he had no experience at all in the car industry.
Storm clouds
Nevertheless, as Ford's chief executive Mr Mulally quickly announced what, with hindsight, looks like an inspired decision. Ford effectively pawned the family silver, in order to raise $23.5bn in loans.
It mortgaged many of its most treasured assets, including the evocative Mustang brand name and the Ford logo itself.
Shortly afterwards, the financial crisis began to take its toll. US car sales plummeted, from 16.5 million in 2006, to just 10.5 million in 2009. General Motors and Chrysler were forced to seek emergency loans from the US government, and both eventually filed for bankruptcy protection.
Ford, however, made its way through the crisis unscathed. It did not need a bailout, and while its rivals were castigated by politicians, press and public, Ford's image was enhanced.
Yet when the loans were first arranged, the global economy had seemed healthy - and Mr Mulally himself admits that he did not foresee how bad things were about to get.
"The thought that went into the $23.5bn was a very careful consideration of what it would take to restructure the company worldwide, because that costs money," he says.
"Secondly, we wanted to accelerate our development of all the new models that you see today."
But even so, there was some concern that storm clouds were gathering.
"I'd been through economic cycles at Boeing for a long time. And the world was slowing down, fuel prices were going up.
"So the third part of borrowing that money was to have a cushion, so that if things continued to degrade, we could handle that."
Quick sales
Whatever the motive, the outcome provided an immense boost to Mr Mulally's personal reputation. However industry insiders say he should not take all the credit.
"The borrowing plan was already in train when he arrived," says Sir Nick Scheele - a former president and chief operating officer at Ford, who left the company in 2004.
"It took months to put together, and it was done by a team led by [former finance director] Don Leclair, though the board was ultimately responsible for signing it off."
The loans bought Ford time, but radical surgery was still needed to return it to profitability. Prestige brands such as Aston Martin, Jaguar, Land Rover and Volvo were sold off in quick succession, enabling the company's management to focus on its core product.
"As a business decision that was absolutely right," says Sir Nick. "Had Jaguar Land Rover still been around, it could have turned the ship over. It was a mammoth cash drain, and in the dark times of 2008-09, cash was what was required."
But according to Mr Mulally himself, the biggest change he wrought at Ford was cultural. In the early days, he says, the main challenge he faced was to persuade managers to work together, instead of focusing on internal rivalries, and to tackle problems head on rather than avoid responsibility.
"I knew that if we were to be successful with our plan, we had to break through that culture, where there was little sharing and where people were afraid to share how things really were," he says.
The moment he knew that task had been achieved, he says, came when managers started turning up for meetings with evidence of failures and asking for help, rather than pretending they did not exist.
Sir Nick Scheele agrees that this was key to turning Ford around.
"There was certainly an issue at Ford. Plenty of people had tried to address it, including myself - without much success.
"It really needed an outsider to come in and say that the culture was the problem. Alan did that. Without him, the business could certainly have gone under.
"His record is extremely positive. He's one of the best I've known in the industry."
Expansion plans
The chief executive job at Ford will now pass to chief operating officer Mark Fields - a key ally of Mr Mulally, who has been with the company for a quarter of a century.
He inherits a business which made a profit of $7.2bn last year.
His main challenge is likely to be guiding the firm's expansion in emerging markets such as China, India and Russia, as well as stemming continued losses in Europe - the one region where Ford is still struggling.
It's fair to say he has a tough act to follow.