PPI claims: Behind the scenes at the ombudsman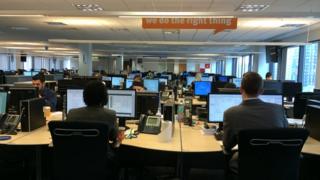 Compensation paid to customers who were mis-sold Payment Protection Insurance (PPI) since January 2011 now totals an eye-watering £14.7bn.
About one in 10 of these successful claims are not straightforward and end up with the Financial Ombudsman Service. In fact, more than a million consumers have sought help from the ombudsman just on PPI.
Anyone who thinks they have been mis-sold PPI is advised to first get in touch with the business that sold the policy. The company has to respond within eight weeks.
If the response is not what the complainant expected then the complaint can be taken to the Financial Ombudsman Service.
Most people call the service by telephone and normally speak to an adjudicator like Rummel Ullah.
In the majority of cases he and his fellow adjudicators can make a decision after seeing a complaint form, having received a response from the business, and having looked at all the relevant policy documentation.
There are cases, though, which are appealed after the adjudicators' decision, or that are more complicated. These are passed on to an ombudsman.
Difficult cases
Steve Townsley is a senior financial ombudsman. When he receives a case he already has a lot of information.
"I try to sort it into three areas," he says. "There's the nice bit in the middle, which if you like are the facts - the stuff no one disagrees about - and to me that's almost the promised land, that's the safe ground that I know about.
"I then have what the consumers told us, and what the business has said in response."
He tells of a case in which a small business owner took out a loan. Subsequently, a complaint was made against the bank that sold it for two reasons: that staff did not explain sufficiently why PPI was needed, and that it was inappropriate for someone who was self-employed to be sold the product in the first place.
Mr Townsley says the case was not simple to resolve.
"The policy, which is in my facts pile, actually has some clauses which make it really difficult for self-employed people to claim. So my actual conclusion at the end was tough [to come to].
"[Yet] because of the terms of the policy, and the detail I've been able to go into, I can say that policy wasn't really suitable for that client. So I'm actually going to uphold this case and I'll award the consumer some compensation."
In this case the amount of compensation will be somewhere between £2,500 to £3,000. Mr Townsley says he has dealt with cases where compensation ranges from just a few hundred pounds up to tens of thousands.
The Financial Ombudsman Service has been kept busy by the PPI scandal. At the peak, it was receiving 12,000 calls a week. Now, it still receives 5,000 calls every week.
Not all these calls are from people who were mis-sold PPI when taking out a mortgage or opening up a new credit card. The ombudsman estimates that 5,000 to 10,000 calls it receives are appeals against retailers who have sold anything from a sofa, or a car, to double glazing, all on finance.
Claims firms
Despite the growth of claims management firms, Caroline Wayman, principle ombudsman, believes most claims can be made by the consumers themselves.
"It's not difficult to make a claim directly, you don't need to use a claims management company, who are usually the ones sending those texts or being sent on behalf of," she says.
"If people want to use them, that's great but you don't need to. So my advice would be have a think. Think about whether you might have had a policy. Actually many people don't realise that they did."
There is also the small matter of the slice of your compensation you may have to give up to a claims management company. For example, in one case a PPI claim was worth £13,000 in total but in the end consumer only received £10,000.
The Financial Ombudsman Service has its critics too. Some have been frustrated at the delays in getting a decision. But Ms Wayman believes the blame is not entirely its fault.
"We've been really disappointed at how long it has taken financial businesses and, at times, claims management companies to really adopt the proper approach to these cases," she says.
"Clearly that really slows things down when there are these volumes. So we've obviously had to adapt ourselves and recruited a huge number of people."
In fact out of the service's 4,000 staff around half are employed solely on handling PPI complaints, which an ambition to make the claims process as fast as possible.