Airfasttickets suspended by international air transport body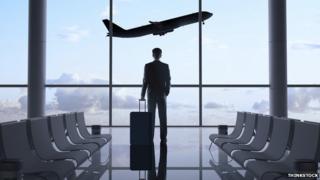 Thousands of holidaymakers who booked with a discount online travel agent are being urged to check directly with airlines that their tickets are valid.
It comes after the International Air Transport Association (IATA) suspended "Airfasttickets" for not paying 45m euros (£36m) to various airlines.
The unpaid bill represents tickets sold in May and June by the agent.
On Facebook, the firm says it is still trading, but it did not respond to requests from Radio 4's You and Yours.
IATA says the firm owes 14m euros for tickets issued in the UK, 22m euros for those issued in Germany and 9m euros for those issued in Greece.
The suspension means Airfasttickets can no longer sell scheduled airline tickets direct to the public.
'Impossible'
Hundreds of people have complained their tickets bought in June have been cancelled without explanation, and no refund has been provided.
One You and Yours listener, Andy Thompson from Cardiff, bought a £500 ticket to Dubai on June 5. Twenty-four hours later it was cancelled for no apparent reason, and Airfasttickets has so far not refunded his money.
"I tried to ring them but that was well-nigh impossible - it was twenty minutes hanging on the phone and I gave up both times," Mr Thompson said.
"I was told to wait seven days but nothing came through, and by this time I knew I was in trouble."
The site's highly prominent adverts feature a scared couple boarding a "disastair" airline and being given children's swimming aids instead of lifejackets.
The company has so far failed to respond to the BBC's phone calls or requests for information by email.
However a message on its Facebook page stated: "Airfasttickets has been in discussions with IATA regarding the terms of its payment and bond/guarantee as a result of the rapid and considerable increase in the company's sales volume.
"These discussions are ongoing and confidential. Rest assured the company remains financially stable and our business operations are continuing as usual."