Maplin sold to Pizza Hut UK owner for £85m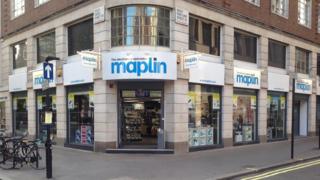 Electronics chain Maplin has been sold by Montague Private Equity to Rutland Partners for £85m.
Turnaround specialist Rutland Partners, which already owns Pizza Hut UK and Bernard Matthews, said it saw "unlocked potential" in the business.
Maplin, which was founded in 1972, is based in South Yorkshire and has more than 200 stores across the UK and the Republic of Ireland.
After a number of hard years, business has improved in the past two years.
Revenues now stand at about £200m a year.
"We are delighted to be able to invest in Maplin and recognise the great progress made by management so far in the recovery of the business, but more importantly the potential still to be unlocked," said Nick Morrill, managing director of Rutland.