Lidl to create 2,500 jobs in £220m UK expansion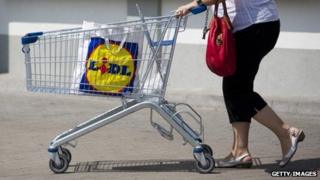 German discount supermarket Lidl has said it will create 2,500 jobs in the UK over the next few months as it spends £220m on opening 20 new stores.
The supermarket has previously said it wants to eventually operate 1,500. It currently has 600 UK stores.
Discount supermarkets have increased their market share in the last year at the expense of the UK's traditional "Big Four" supermarkets.
Last year, Lidl spent £170m opening 12 new stores and creating 3,500 jobs.
The "Big Four" - Sainsbury's, Asda, Tesco and Morrison's - have become embroiled in a price war with Lidl expansion to create 2,500 jobsthe discounters in an attempt to win back customers that have deserted them.
Figures from market analysts Kantar Worldpanel earlier this month showed Lidl had grown its UK market share to a record 3.6%, while like-for-like sales - which strip out sales from stores open less than a year - grew 22.7%.
Kantar said Tesco, the UK's biggest supermarket, had seen its market share drop to 29% from 30.5% in the last year, while sales slipped 3.1% from a year ago.
Retail battle
Lidl said the new jobs it is creating would range from positions at its headquarters in Wimbledon to in-store posts such as bakery managers.
In the year to 28 February, the supermarket said its UK sales rose 20% to £3.3bn.
Lidl UK managing director, Ronny Gottschlich, said: "This latest phase in our growth is a testament to the continuing success of Lidl in the UK."
Earlier this week, rival discount chain Aldi submitted plans to build a distribution centre on the outskirts of Cardiff, which it said would create 400 jobs locally.
Last week, Sainsbury's opened a new front in the war with the discounters as it announced a joint venture with Danish discount store Netto that will see it open 15 new stores in the next year.
The joint venture marks a return to the UK for Netto, which left the market in 2010 after 14 years, selling its retail estate to Asda for £778m.