Bulgarian bank system under attack, says central bank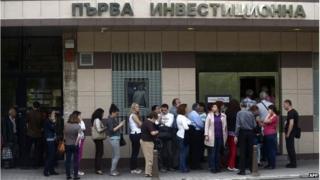 Bulgaria's central bank has said there has been a systematic attempt to destabilise the country through attacks on the banking system.
It said it would use all powers at its disposal to protect citizens' savings.
Shares in Bulgarian banks fell sharply for the second day in a row.
These is speculation that a run on deposits at the country's fourth-biggest bank, Corporate Commercial Bank, could spread to others.
The central bank took control of Corporate Commercial Bank last week and said its problems were isolated. Economists and Fitch Ratings agency have also played down the risk of contagion, while foreign banks with subsidiaries in Bulgaria insist their operations are safe.
But comments by a deputy from the country's ruling party on Thursday that another bank may suffer a similar fate further hit confidence and left investors rushing to ditch Bulgarian bank stocks.
'Ill-intentioned rumours'
"In recent days there has been an attempt to destabilise the state through an organised attack against Bulgarian banks without any reason," the central bank said in a statement.
The central bank urged all state institutions to work together to protect financial stability and take legal action against those spreading "untrue and ill-intentioned rumours" about the health of Bulgaria's banks.
Shares in First Investment Bank plunged 23% on Friday. Other bank shares also declined.
"The whole banking sector is being sold off due to the problems around Corporate Bank. Investors are worried the problems can spread," said Boyan Gatsev, a trader with Varchev Finance.
First Investment Bank said on Friday it would close its branches at 12:00 GMT and remain closed until Monday after depositors withdrew 800m lev (£328m) of funds in a matter of hours.
Separately, Bulgaria set 5 October as the date for a snap parliamentary election. Prime Minister Plamen Oresharski's minority government agreed to resign earlier this month after the biggest party in his coalition, the Socialists, performed badly in May's European elections.