North Korea's economy 'grew 1.1% in 2013'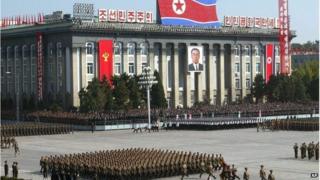 North Korea's economy grew by 1.1% in 2013, according to estimates by South Korea's central bank.
It is the country's third consecutive year of positive growth, in spite of international sanctions against it.
The Bank of Korea puts North Korea's gross national income (GNI) at 33.8 trillion won (£19.6bn), or roughly 2.3% of South Korea's GNI of 1,441tn won.
The bank said last year's expansion reflected gains in agriculture and mining.
North Korea - which does not release its own economic data - is heavily sanctioned under UN resolutions for its nuclear and missile tests dating back to 2006.
The UN Security Council's sanctions on Pyongyang target the country's missile and nuclear programmes and attempt to punish North Korea's reclusive leadership through a ban on the export of luxury goods to the country.
Nuclear test
North Korea's ties with South Korea have been cut back after Seoul suspended most commercial projects and aid from 2010.
The annual Bank of Korea report is based on data collected from the National Intelligence Service and other South Korean institutions specialising in the North.
The North's economy has been hit by shortages of electricity and raw materials, with sanctions imposed over its missile and nuclear weapons programmes restricting access to international credit.
A contraction in the construction sector meant 2013's growth rate was slower than the 1.3% growth estimated for 2012.
The agricultural and fishery industry grew 1.9% in 2013, helped by good weather, the bank said.