City watchdog boss defers bonus over investigation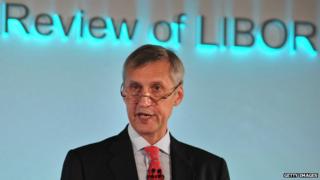 The chief executive of the Financial Conduct Authority (FCA) Martin Wheatley has deferred his annual bonus until an inquiry into a controversial press briefing is complete.
Bonuses of 8 other FCA executives will also be delayed.
Shares in insurance companies were hammered in late March after reports - based on the FCA briefing - warned of a major investigation into the industry.
At the time it was described as "an extraordinary blunder" by a senior MP.
The watchdog did not comment on the move, but there could be more information in the FCA's annual report, which is due to be published on 9 July.
It is not clear whether the size of the deferred bonuses will be detailed.
Last year Mr Wheatley was awarded a bonus of £86,000.
Leak shock
The controversial leak was reported in the Daily Telegraph on 28 March.
The normal procedure would have been to notify companies, investors and press at the same time in an official announcement.
The report said the FCA would probe the sale of 30 million policies worth £150bn - including pensions, endowments, investment bonds and life assurance policies sold in the UK between the 1970s and 2000.
Following the leak, Commons Treasury committee chairman Andrew Tyrie said "On the face of it, this is an extraordinary blunder."
"The principle that market sensitive information is released accurately to all participants at the same time appears to have been breached."
Clarification
Mr Wheatley had to later clarify the remit of the investigation.
He said the FCA inquiry would look at the conditions that were set at the time the policies were taken out, whether they were clear, and whether they were fair.
But he also suggested that there would not be harsh penalties imposed for mistakes in the past.
The investigation into the leak is being carried out by an independent legal firm.