Gatwick passenger numbers hit record high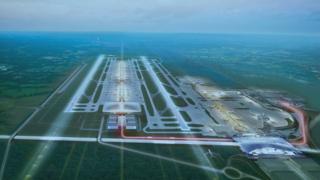 Gatwick Airport has reiterated its case for a second runway as it reported record passenger numbers and said airlines were adding new services.
The UK's second busiest airport said passenger numbers rose 4.8% to almost 36 million in the year to 31 March.
Gatwick reported an operating profit of £147m for the year, compared with £116.4m a year earlier.
The airport is competing with Heathrow in what has become a two-horse race for a new runway.
While politicians and business leaders agree that the UK needs new runways to help it remain economically competitive, proposals to build more capacity around London have proved controversial.
A decision has been repeatedly pushed back since the need for a new runway at one of four airports around the capital was identified more than a decade ago.
The Airports Commission is due to make a recommendation on where to build the new runway next summer.
Stewart Wingate, chief executive of Gatwick Airport told BBC Radio 4's Today programme that Gatwick was the cheapest, and quickest option.
He said: "We think London deserves two world class airports - why settle for just one?"
In a statement accompanying the airport's results, Mr Wingate said: "Expansion at Gatwick would ensure London can effectively compete with its European neighbours and provide essential air links that the UK needs to both established and emerging markets."
New routes
Gatwick said airlines were continuing to grow at the airport, opening new routes and adding new aircraft.
British Airways and Easyjet are among the airlines that have added new routes out of Gatwick in the past year.
Gatwick said Easyjet had launched new flights to Europe, including Paris, Brussels and Strasbourg, as well as domestic flights to Jersey and Newcastle.
It added one in five passengers were now travelling on business from Gatwick.