Dixons and Carphone profits jump ahead of merger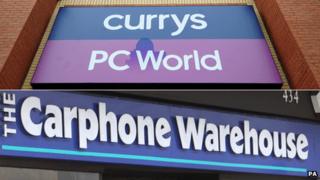 Dixons and Carphone Warehouse have both reported strong rises in full-year profits ahead of their planned merger.
Dixons reported pre-tax profits of £133m for the year to 30 April, up 53% from £86.6m a year earlier.
Carphone Warehouse reported pre-tax profits of £67m in the year to 29 March, up from £3m a year earlier.
Dixons announced a £3.8bn merger with Carphone Warehouse in May. The deal was approved by the European Commission on Wednesday.
Dixons operates more than 500 Currys and PC World stores in the UK and Ireland. Carphone Warehouse operates more than 2,000 stores across Europe.
Dixons said it had seen a strong start to the new financial year with increased sales of white goods and televisions in particular ahead of the World Cup.
Sebastian James, chief executive of Dixons, told the BBC one of the benefits of the merger with Carphone Warehouse was the new company could offer solutions to customers who wanted to be able to control such things as central heating and lighting remotely using their smartphone, which he added was a growing market.
Richard Hunter, head of equities at Hargreaves Lansdown Stockbrokers, said Dixons' focus on its core markets in the last year had "clearly been a successful strategy".
"The cost reduction programme has also been achieved, whilst some momentum has already been provided for the new financial year ahead of the football World Cup with a boost in TV sales," he said.
"With its imminent partner also posting strong numbers today and with a similarly bullish outlook, the future looks bright for Dixons Carphone."