Carpetright sees losses widen again as sales fall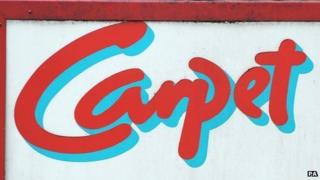 UK flooring firm Carpetright has seen its losses widen in a year it described as a "challenging time" for the group.
Its pre-tax loss for the 52 weeks to 26 April was £7.2m, compared to a £5.1m loss the previous year, while total sales fell 2.2% across the group.
Carpetright said "significant sales volatility" in the UK and "extremely difficult trading conditions" in the Netherlands, had hurt its performance.
"We continue to take steps to develop the business," it said.
In the UK, the flooring chain said it had refurbished 89 of its stores over the past year, aiming to give them a "more contemporary feel, in which it is easier for customers to shop".
It also cut its total number of stores by 6 to 472 in total.
And it said it plans to invest further in its bed business, which now accounts for 7.6% of total UK sales revenue. It said it believed its "Sleepright by Carpetright" offering had "significant further growth potential".
In Europe, it is following a similar refurbishment plan and has so far modernised 33 of its total 142 stores.
"We expect these actions will underpin an improvement in group performance in the new financial year," said executive chair Lord Harris.
However, in the UK it warned that it "assumed" that it would continue to trade in a "subdued retail environment" until the economic recovery was firmly established.
The firm, which has issued three profit warnings in the last nine months, also said it was continuing to search for a new chairman. It said Lord Harris would remain as chair until a successor had been found, and may remain on the board thereafter.