Shire forecasts $10bn sales by 2020 as it fends off US bid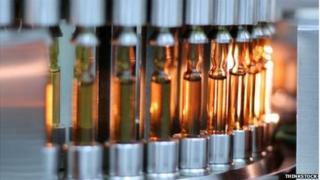 UK drugs firm Shire has said it expects to double its current product sales to $10bn by 2020 as it tries to fend off a $46bn (£27bn) bid from US rival AbbVie.
Shire pledged to deliver "substantially more value to shareholders", in a presentation aimed at persuading investors that AbbVie's offer undervalues the group.
The company said its "focused growth strategy" would drive its expansion.
Shire has already rejected three bids from AbbVie.
The US firm now has until 18 July to make a fourth offer, according to Takeover Panel rules.
Analysts at Jefferies estimate the US firm could still make a higher offer, worth up to $55bn.
On Friday, Shire warned that AbbVie's plan to cut its tax bill by re-domiciling in Britain for tax purposes was also risky.
"The Board also had concerns regarding the execution risks associated with the proposed inversion structure," it said.
Founded in 1986 in the UK, Shire conducts the majority of its business in the US. It changed its tax base to Ireland in 2008.
It is seen as an attractive takeover target for US drug firms because it has no single controlling shareholder.
AbbVie is just one of several US firms looking to acquire companies in favourable tax locations and then relocate in the lower-tax nation, in a process known as an inversion.
US drug giant Pfizer recently failed in its efforts to do something similar with British firm AstraZeneca after the proposed acquisition was met with hostility from both American and British politicians.