Asos resumes trading again after fire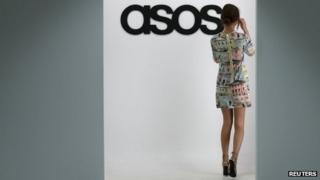 Online fashion firm Asos has started taking orders again after it was forced to suspend trading following a fire at its main warehouse in Barnsley.
In a statement, Asos said the fire had affected about 20% of the stock held at the site.
The Barnsley warehouse is the firm's major global distribution centre. Asos said about 70% of its total stock of £159m was held at the site.
The fire is being treated as arson by police.
Asos said none of the technology, automation or structure of the building had been affected by the fire.
The company temporarily closed its website on Friday after the fire, and reopened it at 2am on Monday morning.
"We are fully insured for loss of stock and business interruption," the firm said in a statement.
Asos' shares fell almost 1% in early trading.
Analysts said Asos' management already had experience in dealing with such issues, noting its Hemel Hempstead warehouse was damaged by explosions at the Buncefield fuel depot in 2005.
"Roll forward, Asos are now bigger, uglier, more global and one would imagine less agile perhaps in their response," said analysts at Jefferies.
Profit shock
The fire at the Asos distribution centre broke out at about 22:00 BST on Friday.
South Yorkshire Police said the incident was being treated as deliberate following initial investigations with the fire service.
More than 60 firefighters tackled the blaze and about 500 people were evacuated from the five-storey building.
The fire came just two weeks after Asos warned in early June that its full year profits would miss forecasts.
At the time, Asos blamed the strength of the pound, which hurt overseas sales and forced it to launch a series of promotions.