Morrisons announces another round of price cuts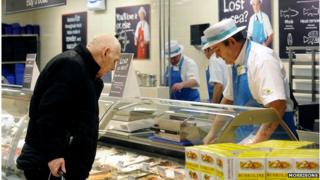 Morrisons has announced further price cuts in its latest effort to win back customers and revive its business.
It is the latest round in a price war among British supermarkets, which are reacting to the challenge of discounters such as Aldi and Lidl.
From Monday the price of 135 Morrisons products, including flour and oven chips, will fall by an average of 14%.
Earlier this month Morrisons' former chairman Sir Ken Morrison criticised the performance of the current boss.
At Morrisons annual shareholder meeting, Sir Ken likened the plans of chief executive Dalton Philips to the manure produced by his herd of cattle.
In May Morrisons reported that like-for-like sales - which strip out the impact of new stores - fell by 7.1% in the 13 weeks to 4 May.
In March it announced that £1bn would be spent over three years on lower prices, developing a loyalty scheme and improving its own brand goods.
As part of that campaign, in May it detailed a big round of discounts, a move which has been described by the company as its "big bazooka".
Monday's price cuts are the next stage and affect categories not included in May's discounts.
Morrison's chief executive Dalton Philips described the move as "permanent price cuts, not promotions" and said "they won't be the last".
Taking on rivals
Analysts say the supermarket industry has become a tough place to do business.
"It's becoming increasingly difficult to generate growth with weak demand and downward pressure on pricing," said Bryan Roberts, an analyst at Kantar Retail.
"Morrisons is showing a willingness to take on Asda in terms of an everyday low price position, rather than promotional activities," he said.
Last week Sainsbury's announced a partnership with Denmark's Netto to launch discount stores in the UK.
Retail experts are now watching to see how Tesco will react.
It is also under pressure and Mr Roberts said recent discounts had "arguably not gone deep enough or wide enough".
Tesco holds its annual general meeting on Friday.