Untrained youths face alarming job prospects - TUC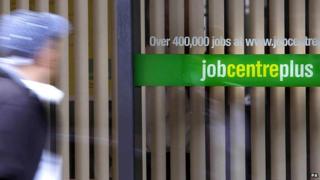 Job prospects for young and low-skilled workers outside full-time education are deteriorating "rapidly", a Trades Union Congress (TUC) report has concluded.
The report said the situation was "alarming" despite the recent recovery in employment.
The TUC is calling for more investment in employment schemes.
The government says the research is flawed and job opportunities for people highlighted by the TUC are better now than after previous recessions.
The Department for Work and Pensions disputed the statistics cited in the report, saying it was comparing the current situation with the economic boom years of the late 1990s.
The report - which follows a study of employment rates for different groups of people in the UK - says young people outside full-time education are now less likely to have a job than workers aged 50-64.
It says the situation is a "remarkable" turnaround from 1998, when they were 25% more likely to be in work than workers in this age bracket.
The report says fewer than half of those who have no qualifications are in work, while the employment rate for people with basic qualifications had fallen to about 63%.
It said employment rates have improved for single parents, older people, black and Asian employees and disabled people over the last 17 years - although they too remain less likely to find jobs.
'Grasping the opportunities'
TUC general secretary Frances O'Grady said government ministers seemed "keener on kicking struggling youngsters when they're down and removing the safety net they need to learn new skills and find work".
"We need to increase funding for employment programmes, for example by guaranteeing a job or training to any young person who's been out of work for six months or more.
"Spending more money on jobs support now will save money in the long run by getting more people in work and paying taxes," she said.
Employment minister Esther McVey said the report was "wrong, misleading and irresponsible".
She said that although "times have been tough for young people in the jobs market", their prospects were "better now than in any other recent recovery".
"Young people who aren't studying full time have a higher employment rate than any other group the TUC lists and it's a credit to every single young person grasping the opportunities that are out there that they've been able to do that," she said.
The latest Office for National Statistics figures - released this month - showed the total number of people out of work in the UK is at its lowest level for more than five years, with youth unemployment, which covers 16 to 24-year-olds, standing at 853,000.