Troubled bank rescued by Bulgarian state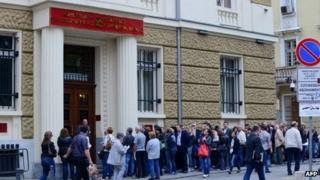 Bulgaria's central bank has taken over one of the country's biggest lenders and urged depositors to stay calm.
Ahead of the move, customers queued outside branches of Corporate Commercial Bank to withdraw money.
"Let's not tear down our house," the governor of the Bulgarian National Bank told depositors, but he did not outline CCB's problems.
He stressed, however, that CCB was not bankrupt, and said its troubles would not spread contagion across the sector.
The central bank will take control of Bulgaria's fourth largest lender for three months. CCB's board has been removed and its shares have been suspended on the stock market.
There had been media reports about the bank's finances.
"As you know, there has been a lot of talk about the bank and one of its shareholders, which triggered bank runs," said central bank governor Ivan Iskrov. "It is very important to be very careful when we talk about banks. Let's not tear down our house alone unnecessarily.
"Let me make this very clear. Corporate Commercial Bank is not a bankrupt bank. We are acting swiftly to avoid a bankruptcy," said Mr Iskrov.
Russia's VTB Bank, a minority owner of CCB, said it was ready to support the bank.
'Isolated'
There are 29 commercial banks operating in Bulgaria and about three-quarters of the banking system's assets are foreign-owned.
Among foreign banks with operations in Bulgaria are Unicredit, Raiffeisen Bank, Hungary's OTP, National Bank of Greece, EFG, and Alpha Bank.
OTP Bank said on Friday that the problems at CCB were "isolated", and were not affecting OTP's Bulgarian arm, DSK, negatively in any way.
"The case of CCB is an isolated case, and a stable bank like DSK will rather benefit from this in the Bulgarian market in the medium term," an OTP spokesman told the Reuters news agency.