'Statistical fog' on mortgage loans, says CML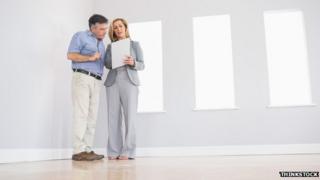 Officials hoping for clear indications of what is happening in the housing market have been given a dose of bad news.
The latest figures on mortgage lending amount to a "statistical fog", according to the Council of Mortgage Lenders (CML).
Total new loans in May amounted to £16.5bn - exactly the same as the previous month.
However, the figure is 12% higher than in May 2013.
While the number of mortgages being taken out has been falling over recent months, the general trend has been for a rise in the value of loans.
New lending rules - known as the Mortgage Market Review (MMR) - came in at the end of April, and may have created a bottleneck with loan applications.
"Market indicators point to a slowdown in activity levels, in part associated with new mortgage rules, but it is unclear how lasting this will be," said Bob Pannell, the CML's chief economist.
The new rules are "likely to have disrupted the normal patterns of activity, creating statistical 'fog' around the published figures," he said.
"As this lifts over the coming months, a clearer picture as to any lasting impact of the MMR rules on lending activity should emerge," he added.
Base rates
Earlier this month, the Royal Institution of Chartered Surveyors (Rics) reduced its expectations for house price growth and noted an end to the "strong upward momentum" in the housing market.
Some economists believe the CML's latest figures support that trend.
"The data for May add to the evidence that housing market activity has - at least temporarily - lost momentum recently," said Howard Archer, chief UK economist with IHS Global Insight.
The threat of an increase in interest rates before the end of the year may also be worrying potential borrowers, although the Bank of England's governor only made his warning last week.
The Bank's Monetary Policy Committee (MPC) underlined his warning earlier this week, when members said they were surprised that markets were not expecting a rate rise as early as this year.
"The threat of an interest rate rise is bound to be having an impact on people's inclination to take on new debt," said Mark Harris, chief executive of mortgage broker SPF Private Clients.