China and UK establish direct currency trades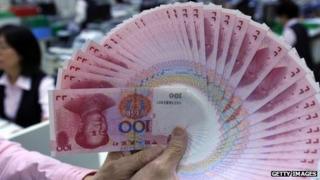 China and the UK have started the direct trading of the yuan against the pound, in a move that will help reduce currency conversion costs.
Both sides are hopeful the direct yuan-sterling trade will help facilitate two-way investment and trade between China and Britain.
The People's Bank of China (PBOC) announced the venture while Premier Li Keqiang is on a UK visit.
The move comes as London is aiming to become a yuan offshore centre.
Earlier this week, the Bank of England appointed the China Construction Bank as a yuan clearing house in London.
A clearing house essentially acts as the middleman between two different parties, and is also the agent through which financial instruments such as shares, bonds and currencies are often traded.
In a statement on its website regarding the yuan-sterling direct trade, the PBOC - China's central bank - said: "This is an important step in strengthening bilateral economic and trade connections between China and the United Kingdom."
At the start of the Chinese premier's visit, both sides signed trade deals worth £14bn ($24bn).
From Thursday, as the two currencies can be directly traded, the yuan-sterling rate will be set by the average prices offered by market makers before the opening of the interbank foreign exchange market.
Previously, businesses that needed to convert money from yuan to sterling or vice versa had to use the US dollar as an intermediary currency.
Earlier this year, China allowed direct domestic trading of the yuan against the New Zealand dollar, as part of moves to internationalise its currency.
Other countries with direct yuan trading facilities are Australia, Japan and the US.