China rejects shipping alliance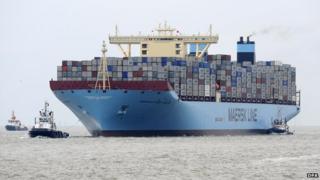 China has rejected a shipping alliance initiative aimed at saving the industry money, despite approval from the US and the EU.
The "P3 Network" was intended to operate in a similar way to code-sharing deals between airlines.
The idea was to allow the world's top three container-shipping operators by volume to cut costs by sharing ships and port facilities.
A successful alliance would have seen about 250 ships participating in P3.
The idea, announced last year, came from a proposed collaboration among three shipping groups: Maersk from Denmark, Mediterranean Shipping Company (MSC) from Switzerland and CMA CGM from France.
The network was supposed to begin operating in the second quarter of this year, subject to approvals from various authorities including China, US and the EU.
The US Federal Maritime Commission approved the alliance in March, while EU competition authorities said earlier this month they would not raise any anti-trust issues in connection with the deal.
However, China's Ministry of Commerce has now rejected the tie-up.
Maersk said in a statement: "The Ministry of Commerce (MOFCOM) of the People's Republic of China announced that they have not approved the P3 Network. The MOFCOM's decision follows a review under China's merger control rules."
Monopoly?
China's state-owned news agency Xinhua said the commerce ministry rejected the alliance "due to monopoly concerns".
According to various publications, the P3 Network would have positioned the three partners to control up to 40% of all cargo capacity along three trade routes: Asia to Europe, trans-Pacific and trans-Atlantic.
The shippers had agreed to deploy about 250 ships between the three of them and share capacity of 2.6 million containers along the busiest sea routes.
Also in the statement, Maersk said: "The lack of implementation of the P3 Network will have no material impact on the Maersk Group's expected result for 2014."
But analysts are not convinced. Jacob Pedersen from Danish financial institution Sydbank said: "This is very negative for Maersk. They won't achieve about $1bn in cost savings, equivalent to 5 to 6% of unit costs."
For its part, MSC said it was "disappointed" with China's decision, and added it would work on other ways to save operating costs.
After China's ruling, MSC's vice-president, Diego Aponte, said: "We could have achieved these efficiencies much faster through P3, but with our investment in more fuel-efficient vessels, further economies of scale will still be achieved over a period of time."