Japan narrows trade deficit in May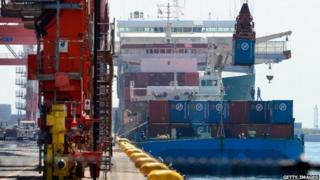 Japan has narrowed its trade deficit in May as exports fell by more than forecast, and imports also registered a decline.
A slowdown in external demand led to a fall in Japan's May exports by 2.7% from a year ago. This marks the first yearly decline since February 2013.
Meanwhile imports fell for the first time in 19 months, by 3.6% from 2013.
The latest set of trade figures has helped to narrow Japan's trade deficit by 8.3%.
For May, the trade balance puts Japan at a deficit of 909bn Japanese yen ($8.9bn; £5.2bn).
That compares to a deficit of over 1tn Japanese yen in April.
But Japan is still running a trade deficit for the 23rd straight month.
The world's third largest economy has been struggling for growth, and Prime Minister Shinzo Abe is expected to reveal another round of economic reforms later this month.
The measures to be implemented could include a cut in Japan's corporate tax.
The country's corporate tax rate is at nearly 36% for large companies operating in the capital Tokyo, and that ranks among the highest in the industrialised world.