China wants to back High Speed 2 and new nuclear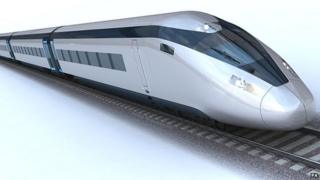 One of the world's biggest lenders, the state owned China Development Bank, wants to become a significant backer of Britain's major infrastructure projects.
China Development Bank (CDB) is a wholly owned subsidiary of the Chinese government and I have been told that it wants to directly fund two major (and controversial) project areas in the UK - High Speed 2 and the next generation of nuclear power stations.
CDB has signed a Memorandum of Understanding (MoU) with the City via the representative body, The CityUK. The MoU will encourage CDB lending in the UK as well as trading in China's currency, the renminbi, which will open up trade opportunities in China to British businesses.
The MoU will be part of the announcements made by David Cameron and Premier Li Keqiang on Tuesday afternoon on closer Sino-UK commercial relations.
The memorandum has been brokered by Sir Gerry Grimstone, the chairman of The CityUK. Speaking to me earlier today, Sir Gerry said that his discussions with CDB this morning revealed that they were focused on three specific sectors.
"They are interested in nuclear, high speed rail and telecommunications," he said. "High Speed 2 was one of the things they specifically mentioned [in the meeting this morning]. Knowing the finance is available is an important part of any project. This is an important development."
Despite the political controversy surrounding the £42.6bn HS2 project, CDB's position will be a welcome boost for supporters of the line.
Downing Street has previously insisted the route will be wholly funded by the tax payer, but a large investor could come in to run the service or to build stations and ancillary connecting services. The first part of the 250mph line to Birmingham is due to open in 2026.
Premier Li offered direct help to build HS2 during Mr Cameron's visit to China last December. That offer, which came as surprise to Number 10, was quickly followed by China Railway Group, a subsidiary of the state owned China Railway Engineering Corporation, saying that it could also help with construction projects connected to HS2.
"HS2 could be an attractive investment opportunity," Sir Gerry, who is also the chairman of pension provider, Standard Life, said. "This is not some wishy-washy diplomatic gesture."
'Trillion dollar bank'
CDB is one of the biggest players in infrastructure development loans worldwide and is seen as an arm of Beijing's economic development policy as well as an extension of the country's "soft power" around the globe.
Sir Gerry describes it as the "trillion dollar bank" and it spends billions of pounds every year supporting projects, particularly across Asia and Africa. CDB is now looking to extend its influence, and that of China, into Europe.
They are not alone. The Bank of China also announced a Memorandum of Understanding with the London Stock Exchange on Tuesday to increase its presence in the City.
On Wednesday another state-backed giant, China Construction Bank, is expected to be confirmed as the first Chinese clearing bank designated for offshore renminbi trading in London - a shot in the arm for the City's aspirations to be the major centre outside Hong Kong for dealing in the currency.
Critics will raise questions. With a budget surplus of $200bn and Western governments desperate for foreign capital following the financial crisis, China is in a powerful position.
How it uses that power is yet to be seen but having a huge pile of cash readily to hand is clearly helpful.
Britain remaining as a member of the European Union, for example, is an important issue for Chinese investors. Sir Gerry said that CDB saw London as a "gateway to Europe".
Support for HS2 might be politically controversial, but many will argue that China's nuclear aspirations raise even more serious issues. UK government sources have made it clear to me that although they support linking with China on new nuclear power stations, they are well aware of the security risks and political sensitivities.
China is already a minority partner in EDF's plans to build a new nuclear station at Hinkley Point and George Osborne made it clear during his visit to China last autumn that he wanted that relationship to go further. China wholly owning and operating new nuclear power stations has not been ruled out.
This is not a one way street and backers of Chinese money coming into the UK point out that CDB and others are simply looking for sustainable returns rather than political influence.
Frankly, the UK also needs the money, supporters say, and partners for other infrastructure investors such as Legal & General.
Regional free trade agreements opening up parts of China to British firms will also be signed today - a sort of quid pro quo.
"This works both ways," Sir Gerry said.
The Chinese may be bearing gifts - no-one is quite clear yet whether we should beware them.