'Misleading' marketing fines for Credit Suisse and Yorkshire BS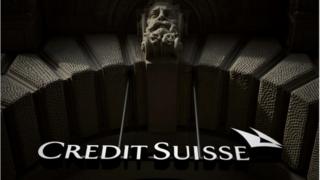 The UK's financial regulator has fined Credit Suisse and the Yorkshire Building Society (YBS) for "misleading" marketing of an investment product.
Credit Suisse was handed a £2.4m fine, and YBS was told to pay around £1.5m.
Both institutions accepted the regulator's findings.
The institutions had promoted the products's potential maximum return, which investors had almost no chance of getting, the Financial Conductor Authority (FCA) said.
Credit Suisse designed the product, called "Cliquet", to provide a minimum return, with the apparent potential for getting back significantly more if the FTSE 100 performed consistently well.
The FCA said that the probability of getting back a minimum return was between 40% and 50%, while the chance of a maximum return was "close to 0%".
The product was typically sold to people with limited investment experience, the FCA said.
"These promotions were a serious breach of the requirement to be clear, fair and not misleading," said Tracey McDermott, FCA's director of enforcement and financial crime.
"CSI [Credit Suisse] and YBS knew that the chances of receiving the maximum return were close to zero but they nevertheless highlighted this as a key promotional feature of the product. This was unacceptable."
'Fallen short'
The product was sold to 83,777 people, who had a total of £797m invested.
Credit Suisse said: "We accept the findings of the FCA's final notice.
"We have taken this matter very seriously, have fully co-operated with the FCA's investigation and have agreed a comprehensive redress process under which affected retail customers will be eligible to claim compensation."
YBS said it accepted the FCA decision, and apologised to its customers.
"On this occasion we have fallen short of our own high standards, and of putting our customers at the heart of everything we do.
"We have agreed with the FCA a process under which our affected customers will be given the option to exit their account and receive an appropriate rate of interest, or to retain their account until maturity.
"We will be communicating further information to affected customers (including those who have closed their account), over the coming weeks."