Low cost airline Wizz Air scraps flotation plans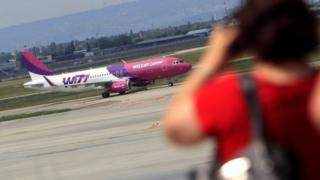 The Hungarian low cost airline Wizz Air has cancelled plans to list on the London stock market citing "market volatility in the airline sector".
Competitors Ryanair, EasyJet, and Norweigan Air Shuttle have all seen a drop in share prices over the past two weeks.
The FTSE Mid-250, the index on which the airline would have traded, has also fallen over the same period.
Wizz Air said the outlook for its business "remains positive".
The company's planned 200m euro (£160m) flotation on the London Stock Exchange was to be used to strengthen its balance sheet and fund growth.
Nevertheless, Wizz Air was upbeat about its prospects.
"The outlook for Wizz Air's business remains extremely positive and unaffected by the decision not to proceed with an IPO; the board will continue to focus on executing its strategy of driving growth and value," the company said.
Airlines have had a tough time on the markets in recent weeks. For example, Lufthansa shares dived more than 14% after a profit alert last week.
EasyJet shares have fallen around 9% from 2 June to the close of the markets on Friday, while Ryanair shares have dropped around 5% over the same time period.