BNP Paribas: EU's Barnier wants 'fair' US action over fine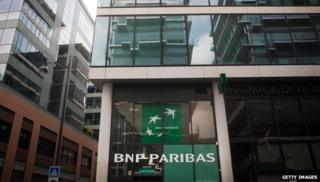 One of the European Union's top officials has intervened in the controversy over a potential huge US fine on BNP Paribas.
Michel Barnier, the EU's internal markets commissioner, said any penalty on the giant French bank must be "fair and objective".
There are reports that the US may hit BNP with a fine of $10bn (£6bn) for allegedly violating sanctions rules.
France has expressed alarm at the fine, warning that it could hurt trade talks.
Mr Barnier told a press conference: "Given the importance of this case and the importance of this bank... we are closely following the situation and we simply wish that this affair be handled in a proportionate, fair and objective manner."
The bank is accused by US regulators of breaking sanctions against Iran, Sudan and Cuba between 2002 and 2009.
France's President Francois Hollande has raised the matter with US President Barack Obama, who has made it clear he will not interfere with the judicial and regulatory process.
French Foreign Minister Laurent Fabius has said that if reports of the size of the fine are accurate, it could hurt the current EU-US trade treaty talks.
Mr Barnier said he hoped to convince the US to include financial services in the talks on the proposed Transatlantic Trade and Investment Partnership, which would create the world's largest free-trade and investment zone.
Financial services is among the many points of friction between the two sides.
The reported size of the fine could almost wipe out BNP's entire 2013 pre-tax income of about 8.2bn euros (£6.7bn, $11.2bn).
Mr Fabius has said the scale of the penalty would be "an extremely serious problem", an "unfair and unilateral decision" and "not reasonable".
In April, BNP Paribas said it had set aside $1.1bn to cover the cost of US penalties, but warned that the "amount of the fines could be far in excess of the amount of the provision".