South Africa platinum strike: Informal deal on the table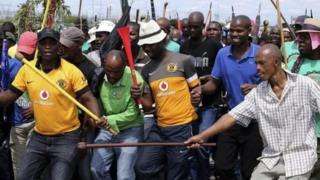 An informal agreement that could end the long-running strike in South Africa's platinum sector has been put to striking miners.
Three mining companies say they have reached an informal agreement with unions.
The AMCU union is now putting the agreement to members to gauge their reaction to the proposed deal.
The strike, which is the longest in South Africa's history, has been going on since late January.
The walkout by up to 80,000 platinum miners contributed to a first quarter contraction in the country's economy.
The mining companies hit by the strike - Lonmin, Anglo American Platinum and Impala Platinum Holding - announced an informal agreement with the union on Thursday.
"The principles that underpin the proposals seek to achieve a sustainable future for the three platinum companies for the benefit of all stakeholders and to afford employees the best possible increase under the current financial circumstances," the firms said.
The AMCU has put the proposal to mine workers gathered at the Wonderkop stadium in Marikana. The union has given an update to its workers, and has said it will respond to the mining companies on Friday.
The stoppage has affected around 40% of the global supply of platinum, a metal used in jewellery and in catalytic converters in cars.
The announcement by the companies marks a major turnaround in the course of the strike.
Companies, unions and strikers have been in deadlock over the strike, risking the closure of shafts, and the loss of thousands of mine workers' jobs.
The South African government, which had been called in to mediate strike negotiations, pulled out of the talks on Monday.
Economic knock-on
The South African economy contracted by 0.6% in the first quarter.
It was the quarterly first contraction since the global economic crisis in 2009 and was in large part due to the fall in platinum production.
The strike has cost the mining companies around $2bn (£1.19bn) in lost revenue, with workers foregoing about $945m (£563m) in wages and benefits.
AMCU has demanded that mine workers have their basic wages more than doubled to $1,200 (£715) a month.
The mines have offered pay increases of up to 10%, which would push the overall minimum pay package up to $1,200 by July 2017. This would include cash allowances for necessities such as housing.