Lufthansa shares dive more than 14% on profit alert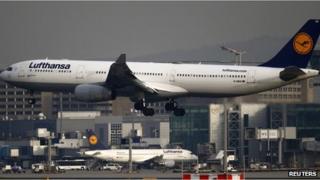 Shares in German airline Lufthansa have fallen sharply after the carrier said it would not reach its profit targets for the next two years.
It blamed competition from other airlines, which is keeping ticket prices lower on its main European and US routes.
A three-day pilot strike in April also wiped 60m euros off its annual profit.
Lufthansa said it expected operating profits of 1bn euros this year, against a forecast of 1.3bn-1.5bn euros.
Currency restrictions in Venezuela preventing airlines from repatriating revenues from ticket sales there had lowered results by a further 60m euros, Lufthansa said.
The airline's shares closed down 14.19%.
Lufthansa, which is Europe's biggest airline in terms of sales, also reduced its 2015 earnings target to 2bn euros from 2.65bn euros.
Tough conditions
"The revenue risks mentioned when we presented the quarterly figures in early May have unfortunately materialised," chief financial officer Simone Menne said.
In May, it said market conditions were tough and that yields - a measure of revenue per passenger - were coming under pressure at its Frankfurt and Munich hubs.
Ms Menne said prices on European and US routes were under pressure because more seats were being offered by rivals.
It has previously complained that Gulf airlines including Emirates, Qatar Airways and Etihad enjoy competitive advantages because they are state-owned.
The profit warning comes just over a month after the appointment of new chief executive Carsten Spohr.
He will present details of restructuring measures in July, the company said.
Lufthansa will also "noticeably" reduce the number of seats it offers over the winter, Mr Menne said.