Zara owner Inditex sees profits fall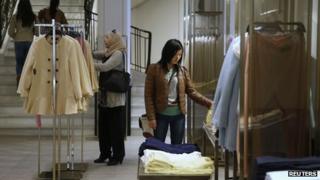 Inditex, the Spanish owner of fashion retailer Zara, has reported its biggest fall in quarterly profits in five years after a strong euro hurt its earnings in other currencies.
Net profits fell 7.3% to 406m euros ($550m; £327m) in the three months to April, from 438m euros a year ago.
But sales grew 4.3% to 3.75bn euros as consumer spending in its core European market continued to recover.
It follows an 8% rise in sales for the year to 31 January.
Inditex, whose brands also include upmarket Massimo Dutti and teen label Stradivarius, said sales rose by 11% in local currencies between 1 February and 8 June.
The company generates more than a third of its sales from outside Europe. In the past year the euro has risen sharply against currencies such as the Japanese yen and Russian rouble, which cuts the level of profits when they are repatriated.
Inditex was boosted by signs of recovery in its home market, which accounts for about one fifth of sales.
Retail sales in Spain were up 0.7% in April from a year earlier, the first rise for three months.