National Grid offers companies cash to cut power use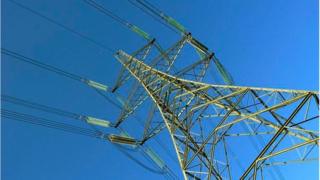 National Grid is offering to pay companies to cut their electricity use in winter to prevent blackouts.
The firm, which runs Britain's supply network, is seeking customers who can cut consumption or switch to backup services during peak demand.
Demand is at its highest between 16:00 and 20:00 on winter weekdays, said National Grid.
The UK is facing a reduction in electricity generation as old plants shut and new ones are slow to start up.
Companies that agree to cut their use will receive a payment, National Grid said.
"It's our job as electricity system operator to make sure we've got all the right tools at our disposal to balance supply and demand on the electricity network, 24 hours a day, 365 days a year," said Peter Bingham, senior manager of National Grid's electricity market reform project.
Britain's energy regulator Ofgem, which gave the green light for National Grid's new balancing tools a few months ago, said it was confident the network operator would be able to keep households' lights on this winter.
National Grid is looking to save up to 330 megawatts (MW) of power demand capacity this winter.