PayPal president David Marcus quits to join Facebook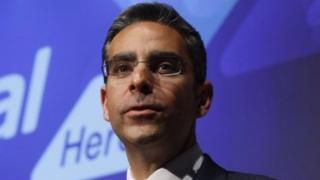 The president of eBay's payments business PayPal is stepping down to join Facebook where he will lead its messaging products business.
eBay said David Marcus, who has led the division for the past two years, would leave the firm on 27 June.
eBay president John Donahoe said Paypal's leadership team would report directly to him until a successor was found.
Mr Donahoe added that PayPal was on track to meet expectations for 2015.
PayPal, which accounted for 41% of eBay's revenues in 2013, has 148 million active accounts.
Under Mr Marcus's leadership it has expanded into mobile payments, and Mr Marcus said he was leaving the business with a "strong leadership team in place".
In a Facebook post, Mr Marcus said he'd decided to join Facebook after a meeting with its chief executive Mark Zuckerberg.
"At first, I didn't know whether another big company gig was a good thing for me, but Mark's enthusiasm, and the unparalleled reach and consumer engagement of the Facebook platform ultimately won me over," he wrote.
"I'm looking forward to getting my hands dirty again attempting to build something new and meaningful at scale," he added.
'Incredibly excited'
In a statement, Facebook said Mr Marcus would be vice president of messaging products at Facebook, a newly created role.
It said it was "incredibly excited" to work with Mr Marcus who had "taught himself to write code at the age of 8 and launched his first start-up at the age of 23".
Facebook spokeswoman Vanessa Chan said Mr Marcus would oversee the Messenger service within its social network as well as the free Messenger mobile app.
Facebook is trying to grow its private messaging features in the face of stiff competition from new start-up messaging service rivals such as Snapchat and Line.
In February, Facebook said it would buy WhatsApp for $19bn (£11bn).