Indian government announces rapid economic reforms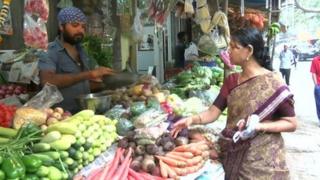 India's new government has unveiled a programme for rapid economic reforms aimed at creating jobs and boosting foreign investment.
The announcement by President Pranab Mukherjee included plans designed to simplify taxation and reduce inflation.
Industrial reforms included attracting private investment to the coal and defence sectors.
He also spoke of India's hopes for good relations with neighbours and pledged to tackle violence against women.
The President's parliamentary address was made to lawmakers elected in Prime Minister Narendra Modi's landslide victory last month.
Mr Mukherjee said that the government would introduce a general sales tax, encourage foreign investment and speed up approvals for major business projects. It would also tackle bottlenecks that make India's food inflation the highest among major economies.
The anti-inflationary message will be welcomed by central bank governor Raghuram Rajan, who has made lowering India's growth-stifling high interest rates contingent on containing consumer prices.
India's economic expansion has slowed markedly, growing by 4.7% in the 2013-14 financial year and marking the second year of sub-5% growth.