Asos shares sink 30% on second profit warning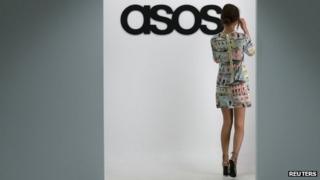 Shares in online fashion retailer Asos have plunged by 30% after it issued a second profit warning in three months.
The company blamed the strength of the pound, which hurt overseas sales and forced it to launch a series of promotions.
International revenues in the three months to the end of May grew by just 17%, against 48% a year earlier.
Chief executive Nick Robertson admitted the retailer's performance was "not what we had hoped for".
The pound has risen 10% in value over the last year.
Asos cut its forecast on profit margins to 4.5% from 6.5% on a sales target of £1bn for the current financial year.
That would imply a fall in profits to £45m from a previous forecast of £65m.
Discounts
Asos, which achieves a high proportion of revenues from womenswear, recently launched a series of promotions.
These normally represent 3% of sales but rose to 8% in its third quarter.
But the discounts were not enough to offset the decline in its overseas sales, which account for 60% of the retailer's total revenues.
Asos warned in March that the costs of new warehousing in the UK and Germany, as well as start-up expenses in China would hit earnings.
Half-year pre-tax profits fell 22% to £20.1m.
Mr Robertson said sales in the three months to the end of May were strong, up 25% across the group and 43% in the UK.
But overseas growth has been slowing in each quarter for the past year.
US sales were up 17% compared with 59% a year ago, while sales growth across Europe of 37% compared with a 56% rise a year earlier.
For the rest of the world, sales slowed to a trickle of 1% compared with 38% the year before.
Mr Robertson said the result was a higher proportion of sales came from the UK and Europe, where margins are lower.
Asos, which stands for As Seen on Screen, is targeting annual sales of £2.5bn.
It reported total sales of £754m in its last set of full year results to the end of August 2013 a rise of 40% on the year before.
Its share price soared to 7111p earlier this year, more than doubling the company's value on the year before, but has since slumped amid profit concerns.
Mr Robertson said: "Whilst our profit performance for this financial year is not what we had hoped for due to an unusual combination of factors, our accelerated investment in technology and infrastructure to support our £2.5bn sales ambition is progressing.
"We are totally focused on rolling out the Asos business model globally as the world's leading online fashion destination for 20-somethings."