Thames Water to pay £86m package after mis-reporting data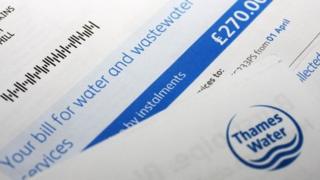 Thames Water has agreed to pay a package worth £86m to customers after it mis-reported sewer flooding data in 2010, the regulator Ofwat has said.
The water company has agreed to a £79m reduction of its regulatory capital value (RCV), which Ofwat said would ultimately lead to lower bills for Thames' 15 million customers.
Thames Water will also return £7m to customers and the community.
The agreement is in place of a fine, which would have gone to the Treasury.
'Inefficient spending'
The RCV measures the financial return a water company receives on its investments, such as water treatment plants.
This helps Ofwat determine whether price rises proposed by water companies are fair before it agrees to them.
The regulator said the reduction in Thames Water's RCV would its mean bills for customers would be reduced by £15.2m in total over the next five years.
It added customers' bills would be kept lower for decades to come.
Ofwat's investigation found Thames Water mis-reported the number of properties at high risk of sewer flooding between 2005 and 2010.
It meant more properties were recorded as being at high risk of sewer flooding than there was evidence to support, Ofwat said.
"The misreporting may have led to poorly targeted and inefficient spending of customers' money," Ofwat said.
But the regulator said there was no indication Thames Water had acted deliberately.
'Positive result'
Of the £7m being returned to customers and the community, Thames Water will put an additional £2m into its own independently managed fund for customers who are having difficulty paying their bills.
It will also invest £5m to support additional community projects, such as local programmes to protect rivers and the natural environment.
Ofwat added the sewer work carried out by Thames Water did reduce the risk of flooding at the homes of a large number of its customers.
It added that between 2005 and 2010 the company spent an additional £20m of its own money to help deal with sewer flooding problems and that this money had not come out of customers' bills.
Cathryn Ross, chief executive of Ofwat said: "We are satisfied that Thames has put right the problems that caused the misreporting. It's only fair that when companies make mistakes, they put it right and make sure customers are not out of pocket."
A statement from Thames Water said: "We made a mistake in some of our 2009-10 sewer flooding statistics.
"Ofwat agree that this was not deliberate and we are pleased they have accepted our package of measures in response. This is a positive result for our customers, communities and the environment."
Last year, the regulator rejected an attempt Thames Water to increase customer's bills by 8% in this financial year.
That was in addition to a 5.5% increase in customers' bills already agreed with Ofwat
Thames Water said the additional £29 price rise was necessary to help pay for the construction of a new super sewer in London.