Saga shareholder refunds delayed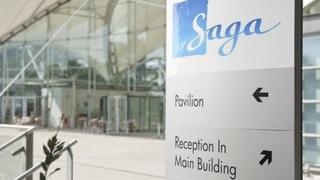 The over-50s holiday and insurance firm Saga says a number of people who applied for shares but failed to receive any during the company's flotation are still awaiting a refund.
The company blames "problems within the banking system".
High demand meant there were more buyers than shares on offer.
Despite that, the price of shares in the newly floated insurance and travel company has barely risen above the original price of £1.85 a share.
Saga says shareholder refunds were processed last Thursday but administrators Capita say they've encountered "problems within the banking system".
Applications
The shares were priced at 185 pence, at the bottom of the 185-245p range announced earlier this month, and traded as high as 195p in conditional trading.
Almost 300 million shares were issued, representing 27% of the overall value of the business.
At the offer price, the company was valued at £2.1bn.
Half of the shares on offer went to retail investors, with a "substantial majority" of these going to its customers.
The company said that applications for the minimum amount of £1,000 of shares would be met in full, and more than two thirds of retail investors had been granted at least 50% of the shares they had applied for.
Advance apology
Saga has emailed applicants, saying: "We have been contacted by a number of shareholders who have queried the time it has taken to refund monies paid by debit card to their account.
"Shareholder refunds were processed by 29 May, as committed to in our prospectus, with all monies due to be cleared in accounts by the 5th working day - being 5 June. Last week the scheme's administrators, Capita, hoped it would be possible to beat this date but regrettably this has not been achievable due to problems within the banking system."
It says refunds by debit card should be completed by the target date of 5 June, but there may be some that will fall outside of this period.
It says applicants whose accounts have not been credited with a refund payment by close of play on 5 June should contact Saga on 0800 015 5429 or by email to enquiries@sagashareholder.co.uk.
It adds: "We sincerely apologise in advance to those customers who do not receive their refund by 5th June; we are working with Capita to ensure that all monies are received as quickly as possible."