Post Office and Travelex run out of Brazilian currency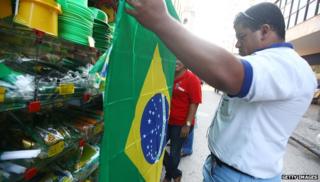 Two of Britain's biggest foreign exchange suppliers have told BBC 5live they are short of the Brazilian Real, just one week before the World Cup kicks off in South America.
Travelex has run out of the currency at Heathrow and Manchester airports, after demand rose more than 1,000%.
Meanwhile the Post Office, which offers travel money at 11,500 branches nationwide, says it won't have the Real until the weekend.
It says demand is up 400% on last year.
Elvin Eldić, head of UK retail at Travelex, told 5live: "Being one of the few FX [foreign exchange] providers who stock the Brazilian Real we are seeing unprecedented levels of demand... As a result, we are currently experiencing a temporary shortage at our Travelex stores in both Heathrow and Manchester airports.
"We are currently working hard to redistribute stock across our retail network and are expecting a large delivery of Brazilian Real within the next few days in time for fans travelling to Brazil for England's kick-off against Italy."
'Unprecedented'
Andrew Brown, from Post Office Travel Money, said: "Post Office has seen an unprecedented demand for Brazilian Real this week with a sales increase of over 400% on the same time last year. This has resulted in a temporary lack of availability in our branches. However, stocks will be replenished by the weekend in time for fans travelling to Brazil for England's first match.
"We recommend that anyone travelling to Brazil should pre-order currency in advance at any of our 11,500 branches or online at postoffice.co.uk. It is also advisable to take a small mix of US dollars which are widely accepted throughout the country."
Football fan Bryan Alexander from Birmingham, who is leaving for Brazil next Thursday, told 5live: "My accommodation in Recife has to be paid in Reals - but my local Post Office have told me there are no Reals in stock.
"The Post Office website was advertising an upcoming special rate on Reals, so I've been holding off buying them. But now when I look online, the option to buy Reals isn't there.
"I'm now worried about landing in Brazil, at night, with no local currency on me."
Keith Pilbeam, professor of international economics and finance at City University in London, told 5live: "This sounds like management incompetence. There's no global shortage of Brazilian Reals - so why haven't they got enough?
"It's down to foreign exchanges to estimate the demand for a particular currency, and stock up accordingly."