Housing demand still strong, says Halifax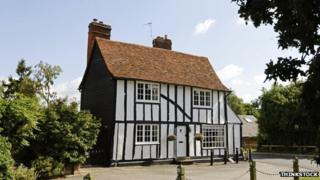 Demand in the housing market is still strong and house price inflation is still accelerating, according to the UK's largest mortgage lender.
The Halifax said prices in May were up 8.7% from a year earlier, a small increase on last month's rate of 8.5%.
The monthly rise was an exceptionally large 3.9%, but the Halifax warned that the monthly figure can be volatile.
It said the quarter-on-quarter rise - which showed an increase of of 2% - was a more reliable indicator.
"On an annual basis, housing demand is still strong," the lender said.
It said the average house price in the UK was now £184,464, the highest figure since October 2007.
The interactive content on this page requires JavaScript
Earlier this week, the Nationwide building society said there signs that price rises were starting to moderate, but it also said house prices were at their highest level since its records began in 1991.
The Halifax is part of Lloyds Banking Group, which has already announced that it will limit lending on more expensive properties.
Both Lloyds and Royal Bank of Scotland have said they will restrict customers to borrowing four times their income on loans of £500,000 or more.
It is thought the Bank of England might act to put further controls on property lending, either this month, or in September.