ONS: Record numbers working from home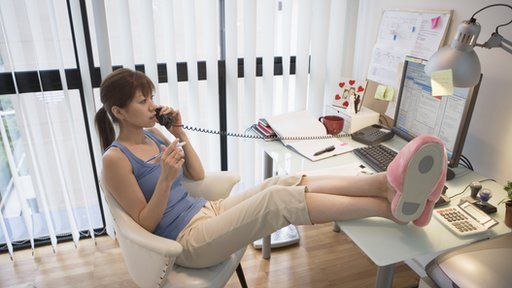 The number of people working from home has risen to its highest level since records began, according to the Office for National Statistics (ONS).
There were 4.2 million UK home workers in the first three months of 2014, amounting to 13.9% of the workforce.
The ONS said that was the highest proportion since measurements started in 1998.
But the TUC said too many UK bosses still did not trust staff to work from home and forced them into the office.
The figures include those who work at home, and those who use their home as a base, but work in different places.
About 1.5 million actually work in their home, or in studios or workshops in the grounds.
Nearly double that number - 2.7 million - say they work from home, but travel on a frequent basis to meet customers elsewhere.
The proportion of home workers has risen slowly, from 11.1% in 1998.
It was in the 1990s that many big companies - such as BT - began encouraging staff to work from home if they could.
But the TUC believes many companies have failed to embrace home-working on a large enough scale.
"Too many bosses still don't trust staff to work from home and instead force them to trudge into the office so they can keep an eye on them," said Frances O'Grady, the TUC's general secretary.
"Employers' attitudes to new working practices must change to make a much better use of modern technology in all workplaces," she said.
But according to the ONS analysis, the majority of people working from home are self-employed.
In all, 63% regarded themselves as self-employed, compared to 34% who were employed by a company or organisation.
Home workers are also likely to be well-paid and highly skilled.
Just under 15% of home workers are managers or senior officials, while 35% are professionals.
Median wages are £13.23 an hour, compared with £10.50 an hour for other workers.
Related Internet Links
The BBC is not responsible for the content of external sites.