Eurozone inflation rate fall adds to pressure on ECB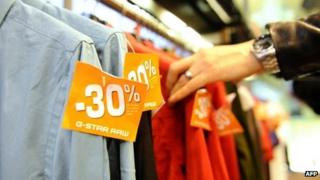 Eurozone inflation fell to 0.5% in May, down from 0.7% in April and well below the European Central Bank's 2% target.
The fall means the ECB will be expected to take steps to boost growth and counter the threat of deflation when it meets on Thursday.
Figures from EU statistics office Eurostat also showed that the eurozone unemployment rate fell slightly to 11.7% in April from 11.8% in March.
The drop means 18.75 million were unemployed in April.
In total, the number of people unemployed fell by 76,000 between March and April.
There were wide variations across the eurozone. Austria had the lowest unemployment rate at 4.9%, closely followed by Germany with 5.2%.
In Greece, unemployment was 26.5% in February, while Spain had a 25.1% unemployment rate.
Strong action
The continued high unemployment rate is reflected in the eurozone's weak growth rate, with the bloc's economy expanding by just 0.2% in the first three months of the year.
Inflation has also fallen in the past year, increasing concerns that the 18-country eurozone could fall into deflation - a sustained period of falling prices.
This can hit growth as consumers delay purchases in hope of picking up bargains, and businesses postpone investment.
Analysts say the central bank could cut its deposit rate to below zero and reduce its main borrowing rate to address the problem.
"The ECB has consistently underestimated the deflationary forces threatening Europe and now is the time for unconventional monetary policy," said Dominic Rossi, global chief investment officer, at Fidelity Worldwide Investment.
IHS Global Insight economist Howard Archer said he expected the central bank to deliver a package of measures on Thursday, including interest rate cuts and liquidity measures.
"If the ECB was at all unsure of the need for strong action then the dip in eurozone consumer price inflation to just 0.5% in May surely gave the governing council a final shove," he said.
Policy hints
ECB president Mario Draghi hinted last month that the bank's policymakers could act soon to try to counter deflation fears.
At last month's meeting, when the ECB kept its benchmark interest rate at a record low of 0.25%, Mr Draghi said that the 24-member ECB council was "dissatisfied about the projected path of inflation" and was "not resigned to have too low inflation for too long a time".
At the time, he said that the ECB was "comfortable with acting next time", raising expectations that the bank could alter policy in June.