Lockheed Martin wins space radar contract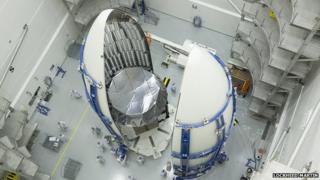 Lockheed Martin has won a contract worth $915m (£546m) to supply the US Air Force with a ground-based radar for tracking objects in space.
It will be part of the Air Force's "space fence" programme designed to track satellites and smaller objects.
The system is planned to be operational from September 2018 and could be based on the Marshall Islands in the Pacific.
The number of man-made objects in space has increased dramatically as China and other nations have expanded operations.
Currently, the Air Force tracks around 23,000 objects in space.
But it is estimated that there are 500,000 bits of debris and satellites near the earth and the new radar will allow US authorities to track them more closely.
Lockheed, which is the biggest supplier to the Pentagon, beat rival Raytheon to win the deal.