UK house prices may be starting to moderate, says Nationwide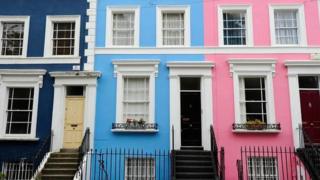 There are signs that activity in the housing market may be "starting to moderate", said the UK's largest building society, the Nationwide.
Prices in May rose by 0.7%, compared with a 1.2% rise in April.
However, the annual rise in house prices edged up from 10.9% to 11.1%, the fastest increase in seven years.
Nationwide said the slowdown could partly be the result of new mortgage lending rules, which officially started in April.
It added that the government's Help to Buy mortgage guarantee scheme seemed to have played little part in house price growth.
The building society's comments came as the European Commission called on the UK to raise taxes on higher-value properties, build more houses and adjust the Help to Buy scheme.
The average UK property price is now £186,512, the building society said, the highest figure since records began in 1991.
The interactive content on this page requires JavaScript
Mortgage quiz
There have been "tentative signs that activity in the housing market may be starting to moderate", Nationwide chief economist Robert Gardner said, with the number of mortgage approvals in April down 17% from January.
"It is too early to say whether nationally this is indicative of a cooling trend in the wider market," he added.
The May slowdown could be linked to the introduction of tougher questions in the mortgage application process, he said.
The new measures require mortgage lenders to test buyers more strictly about whether they can afford mortgage repayments, including under the scenario of rising interest rates.
Despite more stringent mortgage lending rules, demand from first-time buyers was "playing an increasingly important role in the housing market", Nationwide said.
In March, first-time buyers "accounted for 48% of house purchase activity".
Help to Buy impact
Nevertheless, the government's Help to Buy scheme, which is designed to ease first-time buyers into the housing market, was not a major factor in price rises, Nationwide said.
In the first quarter of the year, Help to Buy mortgages accounted for 9% of total mortgage completions.
In London, which saw the fastest house price growth in the quarter, Help to Buy accounted for about 4% of mortgage completions, Nationwide said.
"The evidence suggests that higher-priced areas have been seeing the largest percentage increases in house prices, especially in London and the South East.
"But the majority of Help to Buy loans have been on transactions where the property values are below the national average," Mr Gardner said.
Critics have voiced concerns that the government mortgage guarantee could contribute to a UK housing bubble.
The European Commission also said that the government should consider altering the terms of the mortgage guarantee scheme.
However, last week Graham Beale, the chief executive of Nationwide, said that the housing market could be facing a "natural correction" and warned that there was a "slowing down in the market place", particularly in London.