Premier League revenues break £3bn mark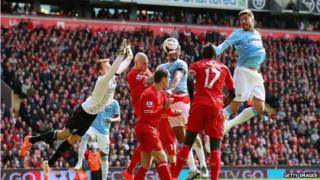 Premier League clubs' revenues broke the £3bn mark in the recent 2013-14 season, say analysts at Deloitte.
They say the figure has been hit just four years after passing £2bn, and that revenues have doubled in seven years.
"A remarkable achievement in isolation, but phenomenal in the wider economic context of that same period," said Dan Jones, head of Deloitte's sports team.
He said the battle between TV firms for Premier League rights was key to driving the league's revenues higher.
"The entry of BT Sport into the market to compete with BSkyB has applied huge upward pressure to broadcast revenue - from the 2013-14 season onwards each domestic live game on average generates broadcast revenue of £6.5m," said Mr Jones, in Deloitte's Annual Review of Football Finance.
"It is clear that BT Sport's entry is not a passing fad but a serious, focused, long-term commitment."
In 2013-14 top flight clubs benefitted, on average, from an extra £25m in broadcast revenue.
'Razor thin' margins
While providing a snapshot of the 2013-14 season, the Deloitte report looks at the 2012-13 season in greater depth.
There were positive signs in the Premier League, with revenues rising to £2.5bn for the first time, but the perennial issues of high wages and debts remained.
Premier League operating profits decreased slightly, and Deloitte said clubs were operating on "razor thin" margins. Wage costs as a percentage of revenues hit a new high of 71%.
Clubs' aggregate net debt grew by £139m to a total of more than £2.5bn by summer 2013.
Deloitte says this was largely driven by an increase in interest-free "soft loans" from owners of £228m.
In fact soft loans totalled £1.6bn, up from £1.4bn a year earlier, represented close to two-thirds of total net debt.
Some 90% of this figure was attributable to four Premier League clubs - Chelsea, Newcastle United, Aston Villa and Queens Park Rangers,
However, Deloitte expects Uefa's Financial Fair Play break-even requirements - which saw Manchester City punished last month for breaching the rules - to focus clubs' minds on balancing their books.
"The signs are that most clubs are adopting a more financially robust and balanced approach to the way they run their businesses, and they must continue down this path if they are to safeguard the long term financial health of the game," Mr Jones said.
'Global perspective'
Meanwhile, the growing global appeal of the English Premier League could be seen in the fact that during 2012-13 half of the clubs had foreign owners, compared with only one 10 years earlier.
International owners have "also influenced the increasingly global commercial perspective driving clubs' business plans, as well as helping the overall export of the Premier League brand around the globe", say Deloitte.
It says it is only a matter of time before there is an owner or major sponsorship deal from China, where the Premier League is a major consumer brand.
The drive to achieve promotion to the Premier League saw Championship clubs gamble heavily in 2012-13.
Wage costs exceeded revenues in the Championship for the first time in 12 years, leading to a record wage-to-revenue ratio of 106% and record operating losses of £241m.
Big clubs dominate
Looking more broadly at the "Big Five" European leagues - England, Germany, Italy, France and Spain - revenues grew 5% to 9.8bn euros.
That represented almost half of the overall size of the European football market of 19.9bn euros.
Much of the growth was at a limited number of big clubs, such as Juventus.
In Italy, revenues grew by 97m euros in 2012-13, three quarters of which was down to Juventus.
Broadcast revenue continued to be the key source of income for Italian clubs, contributing 59% of their total revenues.
The Business of European Football
League
Revenue 2012-13
Wages 2012-13
Premier League, England
2.9bn euros
2.1bn euros (71% of revenue)
Bundesliga, Germany
2bn euros
1bn euros (51% of revenue)
La Liga, Spain
1.9bn euros
1bn euros (56% of revenue)
Serie A, Italy
1.7bn euros
1.2bn euros (71% of revenue)
Ligue 1, France
1.3bn euros
0.9bn euros (66% of revenue)
Source: Deloitte
Germany's Bundesliga continued to be the only big five league where income from TV rights was not the largest revenue source. Instead, commercial revenue, which accounted for 46% of the total, dominated.
The Bundesliga also remained the league with the strongest cost control, with a wages-to-revenue ratio of 51%.
In Scotland, generated by top tier clubs fell by £4m in 2012-13. The impact of Rangers competing outside the top flight was largely offset by additional revenues generated by Celtic's run to the last 16 of the Champions League.