UK manufacturing recovery continues in May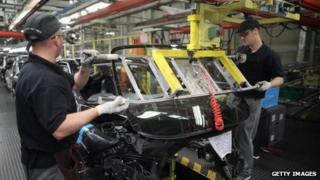 UK factory output is continuing to enjoy one of its strongest growth periods for 22 years, a survey has suggested.
Manufacturers raised production in May to meet strong demand, according to research firm Markit.
Growth continued at almost the same rate seen in April, matching economists' expectations.
The Markit/CIPS UK Manufacturing Purchasing Managers' Index (PMI) edged down slightly in May to 57.0 from 57.3.
However, growth stayed well ahead of a reading of 50, the dividing line between growth and contraction, after strong demand from domestic and export markets.
'Real positives'
The PMI has indicated that the manufacturing sector has grown every month since March last year.
Consumer goods, machinery and equipment all saw marked expansions of new orders and output.
Markit also said that in May the wider UK economy benefitted from manufacturers taking on more staff.
"Sustaining the rebound and continuing to push towards rebalancing the UK economy towards manufacturing therefore remains critical. On those scores the latest survey provides some real positives," said Rob Dobson, senior economist at Markit.
Factory production is expanding at a quarterly rate close to 1.5%, although the sector is still about 7.5% smaller than its pre-crisis peak, Markit said.
Manufacturing makes up about 10% of the UK economy, so strong manufacturing growth will be unlikely by itself to persuade the Bank of England to raise the historically low bank lending rate of 0.5%, Mr Dobson said.
Nevertheless, he added that manufacturing output could be a factor that could shift the Bank's monetary policy committee towards changing its policy sooner than expected.
Strong exports
Manufacturing industry body the EEF said that the Markit figures underlined "the important role being played by industry in the UK's continuing recovery".
"The sector is firmly on track to expand for a fifth consecutive quarter, its strongest performance in four years," said Neil Prothero, deputy chief economist at EEF.
"Signs of a pick-up in export orders are especially welcome, as the broader rebalancing story still requires a significant boost in net trade to support the recent rebound in business investment."
The Markit survey found that new export orders rose for the 14th consecutive month in May.
Companies reported improved demand from the US, Asia, Canada, Europe, the Middle East and New Zealand.
The UK PMI figures were published on the same day as Markit figures for the eurozone, which indicated a slowdown in factory output growth to a six-month low in May.