Asset-backed investments helpful, says Bank's Cunliffe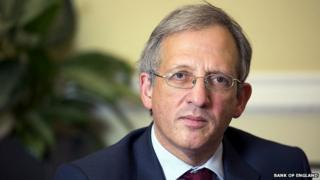 The market for asset-backed securities - the kinds of products that helped trigger the financial crisis - should be revived, Sir Jon Cunliffe, deputy governor of the Bank of England for financial stability, has told the BBC.
With the right standards and safeguards in place, he said the market could be a useful mechanism to help lending.
The market was "abused" in the run-up to the crisis, he added.
Products needed to be transparent and linked to underlying assets, he said.
The market includes mortgage-backed securities, in which individual mortgages are packaged up to form income-generating assets, which are then sold to investors.
Those products that were based on sub-prime, or low quality, mortgages, plunged in value in 2007, losing banks huge sums of money and helping to trigger the financial crisis.
These kinds of products had become very complicated and, in some cases, bore little relation to the underlying asset.
'Key priority'
But Sir Jon said asset-backed securities were useful instruments if they were simplified and retained some exposure to the asset on which they were based.
"What happened in the financial crisis, particularly with assets originating in the US, is that [securitisation] was exploited and abused," Sir Jon told Radio 4's Today programme.
"But securitisation is just a mechanism for banks to make loans, bundle up those loans and sell them on to other investors who want to be lending to the real economy - to households and companies - but don't have the infrastructure of banks to generate loans."
He said a "key priority" for the Bank was to see more diversification of lending in the economy.
"We want to see if the market can develop standards and ways of doing [securitisation] that deals with the risks and can allow it to happen in a beneficial way," Sir Jon said.
Part of this was ensuring that the banks who devised these instruments had some exposure to them, he said.