Eurozone manufacturing slows to six-month low in May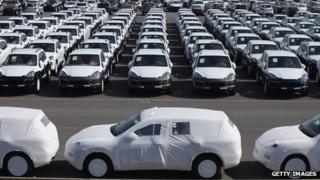 Manufacturing growth in the eurozone slowed to a six-month low in May, according to a closely-watched survey.
The final Markit's Eurozone Manufacturing Purchasing Managers' Index (PMI) dipped to 52.2 in May, down from 53.4 in April. A figure above 50 indicates expansion.
Output growth in all nations, except the Netherlands, slowed.
It has fuelled expectations that the European Central Bank (ECB) will act to boost growth when it meets on Thursday.
Analysts say the central bank could cut its deposit rate to below zero and reduce its main borrowing rate.
"The May drop in the manufacturing PMI will inevitably add to the clamour for policymakers to provide a renewed, substantial boost to the region's economy and ward off the threat of deflation," said Chris Williamson, Markit's chief economist.
IHS Global Insight economist Howard Archer said he expected the central bank to deliver a package of measures, including interest rate cuts and liquidity measures.
"The ECB seems highly likely to cut its refinancing rate from 0.25% to 0.15% or 0.10% and to take its deposit rate modestly into negative territory," he said.
Policy hints
The eurozone inflation rate is currently 0.7%, well below the ECB's target of about 2%.
ECB president Mario Draghi hinted last month that the bank's policymakers could act soon to try to counter deflation fears.
At last month's meeting, when it kept its benchmark interest rate at a record low of 0.25%, Mr Draghi said that the 24-member ECB council was "dissatisfied about the projected path of inflation" and was "not resigned to have too low inflation for too long a time".
At the time, he said that the ECB was "comfortable with acting next time", raising expectations that the bank could alter policy in June.
France lags behind
May's PMI figure for the manufacturing sector was below the initial estimate of 52.5 and lower than analysts had expected.
However, it still marks the 11th consecutive month that the sector has expanded.
France was the weakest performer overall, and was the only nation to see its manufacturing sector contract. It was hit by weaker domestic and new export orders.
"France is one boat which is not being lifted by the rising tide," added Mr Williamson.