Growth in China's service sector picks up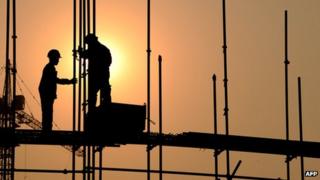 China's service sector grew at its fastest pace in six months in May, helping allay fears of a sharp slowdown in its economy.
The non-manufacturing Purchasing Managers' Index (PMI) rose to 55.5 in May from 54.8 in April.
It comes just days after China reported that the manufacturing sector grew at its fastest pace this year in May.
China's service sector, which includes construction and aviation, accounts for nearly 43% of its overall economy.
The PMI is a key indicator of the health of the sector and a reading above 50 indicates expansion.
Sustaining growth
The upbeat numbers of both the manufacturing and services PMI come amid the wider economic slowdown in the world's second-largest economy.
Its economy grew by 7.4% in the first three months of the year, from a year earlier, down from 7.7% growth in the previous quarter.
China's policymakers have taken various steps in recent months to sustain its high growth rate.
These include tax breaks for small and medium-sized companies, and ramping up spending on China's railway infrastructure.
Last week, the government also signalled it would cut reserve requirements for banks in a bid to stimulate lending to certain sectors. and small and medium businesses.