Spain to launch 6.3bn euro stimulus package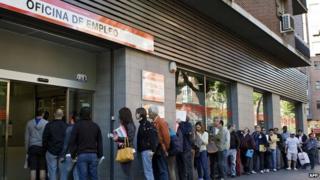 Spain will unveil a new stimulus package worth 6.3bn euros (£5.1bn; $8.6bn) next week, Prime Minister Mariano Rajoy has announced.
He said the main rate of corporate tax would also be cut to 25% from 30%.
The measures are designed specifically to boost the economy's competitiveness and to create jobs.
The Spanish unemployment rate is running at almost 26%, with more than half of the workforce under 24 years of age out of work.
"Next Friday, the government will present a package of measures to increase competitiveness and productivity," Mr Rajoy said.
"The plan will include investments totalling 6.3bn euros, of which 2.67bn will come from the private sector and 3.63bn from the public sector."
Reports suggest the package will include credits to small and medium-sized firms, and investments aimed at research and development, transport and energy saving.
Spain emerged from recession in October of last year.
The economy grew at its fastest quarterly pace since 2008 during the first three months of this year, with GDP up by 0.4% over the quarter. Compared with year earlier, it grew by 0.6%, the fastest pace in three years.
Spain was hit particularly badly during the financial crisis, with its banking sector needing a bailout from its European partners in 2012.