Iran's students to have US online courses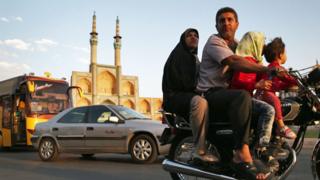 A major US online university network says restrictions are to be partially lifted on providing online courses for students in Iran.
Online university courses have been caught up in US trade sanctions against Iran, Cuba and Sudan, so that students in those countries have been blocked from many free courses from US universities.
Coursera says it has been "working closely with governing authorities to navigate licences and permissions" and, as a result, "Iranian learners will now regain access to the majority of Coursera's courses".
The California-based Coursera has almost eight million registered students, making it one of the world's biggest providers of so-called Moocs - massive open online courses.
Coursera, which has courses from more than 100 universities, including Stanford and Yale, says it expects to be used by tens of thousands of students in Iran.
Hi-tech ban
But there are still some barriers in place.
"Sanctions still prohibit educational institutions and organisations from offering certain subjects," says Coursera. These include advanced-level courses in science, technology, engineering and maths.
It means that anyone trying to access these courses from an Iranian internet address will be blocked.
Coursera, welcoming the partial lifting of the trade ban in Iran, says it will continue to "push for access" in Cuba and Sudan.
"We look toward a future where all knowledge is free, accessible and unhindered," said a Coursera statement.
Online university providers based in Europe have not been affected by the US sanctions - and have no limits on providing courses in Iran, Cuba or Sudan.
A UK online university platform, FutureLearn, has provided an alternative route for students in these countries. Set up by the Open University, it provides courses from UK universities such as Sheffield, Bristol, Bath, Reading and Liverpool, along with the Monash University in Australia and Trinity College, Dublin.
Edinburgh University has courses on both FutureLearn and Coursera, which means that students in Cuba can access them from FutureLearn but are blocked on Coursera.
Tehran students
Negar, a 30-year-old student in Tehran, said she found out about FutureLearn's courses from BBC News.
"I checked the website and signed up for the courses that I was interested in the most," she said. Her courses included a Southampton University course on "Web science" and the University of Reading's "Guide to writing in English for university study".
She says that she found the courses very useful - and that there is demand for such international education.
"Many people in Iran are interested in courses from a UK university," she said. It's also a way of connecting and swapping ideas with people in other countries.
"It is a great opportunity for communicating with people all around the world with different cultures and different experiences. It's easy to share ideas and point of views with the other students," she said.
Amin, a 25-year-old industrial engineering graduate from Tehran, is following courses in "Writing in English for university study" produced by the University of Reading and "Study skills for international students" from the University of East Anglia.
On Twitter there are conversations about FutureLearn courses between students in Iran, Nigeria and the UK.
Open access principle
"The internet is opening up access to quality, higher education courses at a dizzying rate. More and more people, who otherwise would not have the opportunity, are able to learn from some of the best of universities in the world," said FutureLearn's chief executive, Simon Nelson.
Another major US Mooc provider, edX, has also been trying to overcome the US trade bans.
Set up by Harvard and the Massachusetts Institute of Technology (MIT), this not-for-profit body argued that the university courses were "information" rather than a service, and as such should not be affected by the trade ban.
So far it says that only one of its courses, In-flight vehicle aerodynamics, has been blocked, because of the concerns over hi-tech information.
It argues that in principle there should be no restriction on such educational exchanges.
"This is completely antithetical to the vision and foundational values of edX and all Moocs. We will continue to work diligently with the US government until every student, from any country in the world, can take any course they choose," said Prof Anant Agarwal, president of edX.
"We believe that all our courses should be freely available and that it does not make sense to block any courses from embargoed nations," said an edX spokeswoman.
"As a matter of policy, edX believes that an educated world is a better world. We believe providing education to people around the world helps promote more just, peaceful and equitable societies. EdX believes that the lack of education can lead to more conflict between nations, not less."